Representation In Film Matters To Minorities
By Hoang Nguyen (YouGov.com)
With Black Panther breaking box office records and films like Get Out and The Shape of Water bringing home Academy Awards, Hollywood seems to be moving towards more diversity in its offerings. But YouGov data shows that minority groups feel there's a long way to go before movies are representative – and fair.
When it comes to roles available in Hollywood, a new survey from YouGov Omnibus finds that most Americans believe that there are a sufficient amount of television and film roles for white people (59%), and many agree that there are enough roles for men (47%). Fewer are likely to believe that women (37%), blacks (35%), Hispanics (23%), Asians (21%), and LGBTQ people (18%) have enough roles available to them.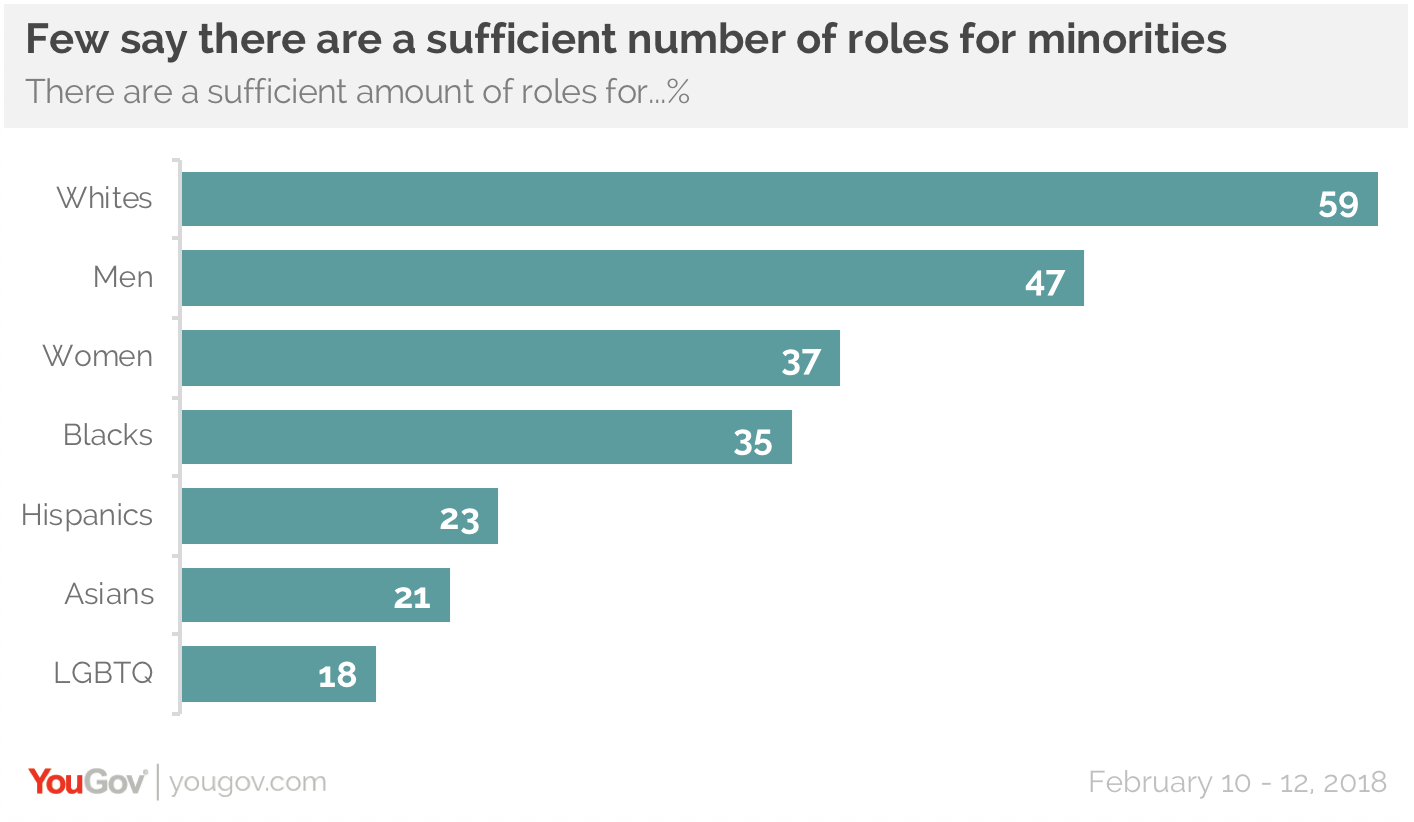 Looking at different aspects of representation through a lens of self-perception only amplifies these figures. For example, while 23% of Americans believe that there are a lack of characters on screen who reflect an authentic experience for blacks, black Americans are twice as likely (46%) to say the same. A similar trend emerges when a quarter of Americans (26%) cite that the same problem exists for Hispanics but over a third of Hispanics themselves (37%) believe that people like them are cast inauthentically.
Hollywood's problem with inauthenticity may stem from its use of stereotypes to portray certain groups. While 41% of Americans say that black characters are often stereotyped, 53% of black Americans feel this way.
The imbalance exists within roles too. When asked if characters who resemble them have too little dialogue, 49% of blacks and 53% of Hispanics agreed. This number soars to 61% when other minorities, comprised of Asian, Middle Eastern, Native American, and mixed people, were asked.
Those same groups were likely to call attention to power dynamics in roles where people like them were cast. Blacks (49%), Hispanics (49%), and other minorities (58%) say that they frequently see characters like them cast as sidekicks, but not as authority figures.